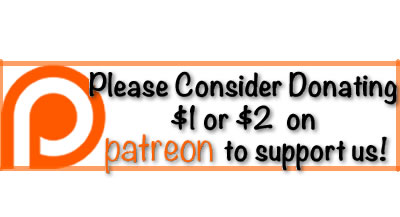 MyLittleHomestead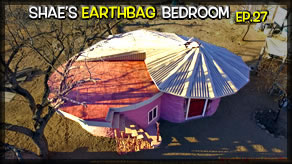 Shae's Earthbag Bedroom In Process (Step-by-Step)

The Family Builds Earthbag Building with Underground Studio (Full Version)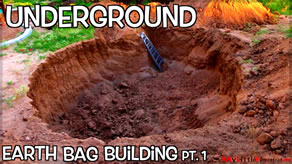 The Family Builds Earthbag Building with Underground Studio (Step-by-Step)
The Family Builds a Dragon Rocket Stove (Full Version)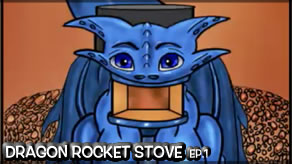 The Family Builds a Dragon Rocket Stove (Step-By-Step)

Building of Bry's Earthbag Bedroom (Full Version)

Building of Bry's Earthbag Room (Step-by-Step)

Garen's Earthbag Bedroom (Exterior)

Garen's Earthbag Bedroom with Underground Rocket Stove (Interior)

Walk Thru Our First Earth Bag Construction Project!

Bree's Earthbag Bedroom

Rocket Stove Mass Heater
Homemade Self Watering Container

Homemade Egg Incubator

Simple Homemade Go-Cart

Homemade Soil Cement

Simple Solar Food Dryer

DIY Outdoor Shower
Homemade GOAT Kart
New Video Posts Most Weekdays!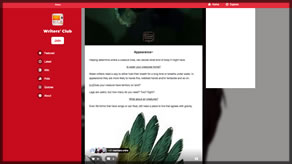 Winter_Apple
Last Nights Fiction Class!
Last nights online class went wonderfully! This lesson was interactive so if you'd like to be apart of the class when it's live, go check out Writers Club Amino! You can find the lessons below. Currently the class is open to new students but it won't be for long! I hope to see you there :P Lesson 3 will be next Wednesday :)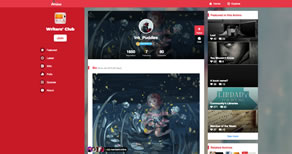 Winter_Apple
I'm Teaching Fiction Classes!
Hello, hello! Recently I bumped into an Amino called Writers Club. The community has free writing classes. I'm the fiction teacher so if you are interested, then feel free to join! Classes are every Wednesday 6-7 MST. You can find all the info you need in the public chatroom InkspirationPuddles: Fiction Classroom. My user name is Ink_Puddles. Hope to see you there tonight!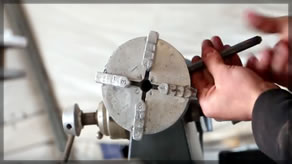 ScienceMadeFunner
Casting an Aluminum Chuck
Part 5
I Finish the Chuck!
I know this has been long awaited! This is one of the most fun projects I have ever done. Enjoy and don't forget to sub! Stay tuned for next weeks video! Have a great day :) ...Watch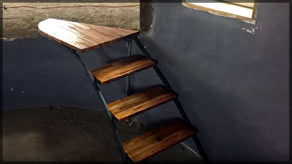 MrOffAndOn
Building A Metal/Wood Staircase
In this Awesome Aideo!
Garen makes a really cool staircase. It's metal, it's wood and you know you want one :P JK! I hope you enjoy. Have a great day and we will see you tomorrow! ...Watch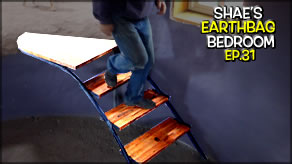 WEEKLY PEEK
Shae's Earthbag Bedroom
Episode 31
Building Interior Stairs & Burlap Ceiling Finish
So, so close! We have almost finished my bedroom and are already talking about upcoming projects. We changed our Valentines day goal to the end of this month (i.e. The Valentine Month :), in order to make the deadline achievable. We hope you had a wonderful "Sweetheart Day" and please enjoy! ...Watch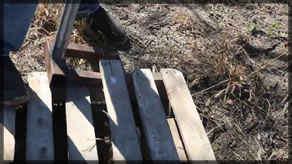 FLASHBACK
Pallet Disassembler
How to!
Back when we were doing pallet ceilings it was difficult to disassemble the pallets so Garen made this nifty little tool. Please enjoy this flashback! Happy late Valentines Day! ...Watch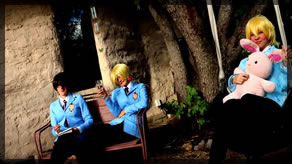 FLASHBACK
More Costumes!
Making of Ouran Cosplay Costumes
A couple years ago my friends and I made Ouran Highschool Host Club jackets! I'm happy to report that the jackets are still in good shape. I cosplay from Ouran at conventions from time to time. Please enjoy this flashback ...Watch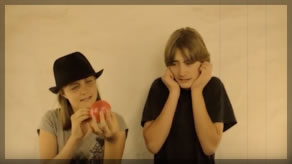 FLASHBACK
Looney Ballooney!
Magic Trick FLASHBACK
Four years ago Bryson and I made this goofy little video. We look so different! We took a balloon and a dart and did some experimenting. Please enjoy! ...Watch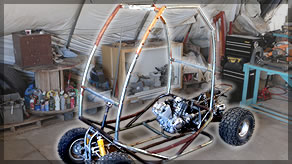 MrOffAndOn
UTV Build!
Part 8
Building A Roll Cage
This week the UTV gained an awesome roll cage! Click here to watch Garen weld it together! If you missed any past episodes you can find them on his channel. Please enjoy! ...Watch
WEEKLY PEEK
Shae's Earthbag Bedroom
Episode 30
Wood Ceiling, Artwork & Electrical
While Bryson has been busy with the ceiling, I've started on the fun painting and the guys started to put in the electrical! It's been a successful and fun week and I'm happy to share it with you! Our goal of finishing by Valentines Day is creeping ever closer so we shall see what we can accomplish before then. See you next week with another video!...Watch
WEEKLY PEEK
Things To Look Forward To!
Spoiler Alert!
Bryson had a major success recently which he'll be sharing with us soon! The mystery shovel's purpose will be revealed tomorrow and we'll also get to see how well Garen's project is turning out. See you soon! ...Watch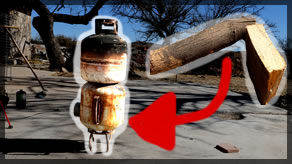 ScienceMadeFunner
How I Made My Wood Fuel Furnace
DIY - It does the Job!
This video was really interesting and I'm excited to share it with you! Bryson talks us through the process of making his furnace. Without this tool, he wouldn't have been able to melt aluminum. Please enjoy and see you next time ...Watch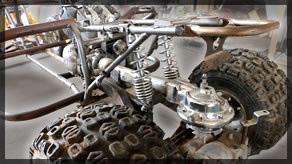 MrOffAndOn
UTV Build!
Part 7
Building The Rear Suspension
In this video Garen builds the mounts for the rear shock/struts. His UTV is looking really good with it's suspension! He'll be back next week with another video! ...Watch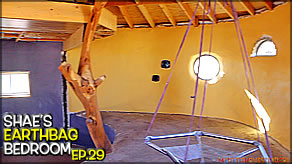 WEEKLY PEEK
Shae's Earthbag Bedroom
Episode 29
Skylight Construction & Interior Paint
This Weekly Peek takes us one step closer to our goal of finishing my room by Valentines Day! I'm excited to share how we did the skylight and what colors we chose for the walls. We also welcome some new members to the farm! Enjoy and we'll see you next Friday!...Watch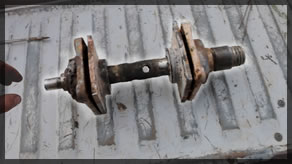 MrOffAndOn
Drilling a Well
Part 7
Fixing The Swivel On The Well Drilling Rig
Garen has been making steady progress on the well, doing a little each week. This video he fixes the swivel and also gives an update of his progress. Please enjoy! ...Watch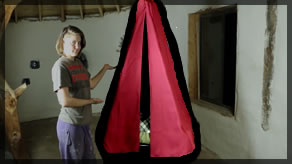 Winter_Apple Hanging Chair!
Sewing Cushion and Tent
My room is almost built so it's time to think about furniture! Bryson and I drew up some plans for this hanging chair and we have been working hard to pull it all together. Please enjoy and check out the links below to see how the frame of this chair was built and to see the making of my bedroom! ...Watch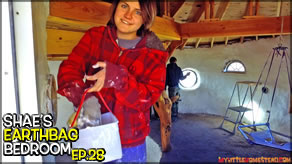 WEEKLY PEEK
Shae's Earthbag Bedroom
Episode 28
Soil Cement Upper Floor & Sheetrock Mud Walls
We are able to finish the dirty work of installing the last of the soil cement floor! We try some new methods for the walls that is working very well. Check out the progress and join us as we meet up with some friends! ...Watch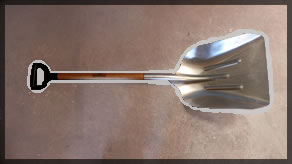 WEEKLY PEEK
Shovel Mystery!
This shovel is going to be used in a unique way in an upcoming video so keep an eye out for that!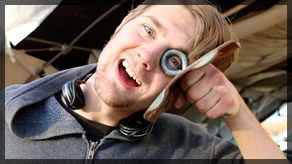 ScienceMadeFunner
Making a Hanging Chair Frame!
A New Addition to Shae's bedroom!
On MyLitttleHomestead's channel we have been building my bedroom! The end is near so I asked Bryson if he would help me with something. I found some old Jungle Gym parts and wanted to make a hanging chair out of them. Bryson kindly agreed to help and we got started right away. Here is a video on our progress. Please enjoy and on Friday, I will have a video out on Winter_Apple about the cushion and chair cover ...Watch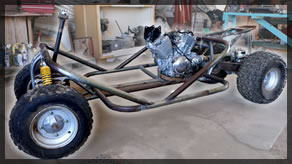 MrOffAndOn
UTV Build!
Part 6
Finishing The Rear End!
The UTV is showing great progress each week and it's really starting to look good. I can't wait to see the next step. Please enjoy and we'll be back next week with part seven! ...Watch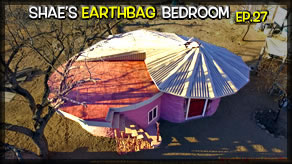 WEEKLY PEEK
Shae's Earthbag Bedroom
Episode 27
Patio Finish, Interior Walls, & Wooden Door
Thank you for letting us have time off. We are jazzed and ready for a new year. We have interior walls, a new patio finish and door install. Take a look! ...Watch